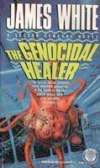 The Genocidal Healer
Ballantine, 1992. Novel, 85,000 words.
Sector General the Eighth, but White used the once-cosy hospital setting to consider terminal illness, euthanasia, pangalactic theology, and many other deep-thinky bits. Surgeon-Captain Lioren is a Tarlan BRLH medic whose professional negligence had almost wiped out the pathologically violent Cromsaggars. Lioren demands the death penalty for himself, but he doesn't get it (a good thing, too, this being only page fifty). His redemption begins with easing the inevitable death of Earth-human Diagnostician Mannen, who has been a Sector Generaller since they built the place around him. He also treats Hellishomar the Cutter, a Groalterri patient who shares his moral anxieties: "I am guilty of a great and terrible sin" (p.110). Their matching problems are none-too-easily resolved, and there's a dash of macro-surgery at the climax.

Synopsis by graham Andrews
First Publication:
Ballantine/Del Rey, NY, ISBN 0-345-37109-7, February 1992
Publication History:
BB hardcover SF Book Club edition No 19557, May 1992.
Foreign Publication:
Wilhelm Heyne, Munich, No 0604981, ISBN 3-453-09462-X, February 1996 as Radikaloperation