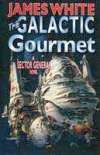 The Galactic Gourmet
Tor, 1996. Novel, 90,000 words.
After the main course of Genocidal Healer came the pineapple chunks of Galactic Gourmet. Gurransevas, Tralthan FGLI master chef, takes on "the greatest challenge of his professional life: making hospital food palatable" (blurb). He starts by throwing his mighty Tralthan weight about, but hubris is finally clobbered by nemesis -- in the best possible taste, of course. White's ability to avoid the black-and-white characterization that marked, or marred, most 'traditional' sf pulp writing is well showcased here. As Harry Harrison once said (possibly at the bar of Dublin's old-time Parliament Inn): "You could always tell who the hero was by his white space helmet." A white chef's hat doesn't really count, or does it?

Synopsis by graham Andrews
First Publication:
TOR Books, NY, ISBN 0-312-86167-2, hardback, August 1996
Publication History:
Tor Books, NY, ISBN 0-812-56267-4, paperback, April 1997
Foreign Publication:
AST Publishers, Russia, 26/8/97
Wilhelm Heyne, Munchen, No 0604982, ISBN 3-453-12636-X, sometime 1997 as Chef du Cuisine
Buy this Book: